Why Screen With DonorSearch?
We Have The World's Largest Philanthropic Database.
We compare donor information that your organization provides us with data found across charitable giving and wealth databases, providing you with actionable insights to help you fundraise. See it for yourself with a free demo.
Get A Demo
Why Screen with DonorSearch?
Access to the World's Largest Philanthropic Database

1

We compare the donor information that your organization provides us to data found across charitable giving and wealth databases. With DonorSearch, you'll have access to the nation's largest philanthropic database.

Proprietary Matching Logic Results In Actionable Insights

2

DonorSearch is the top philanthropic and wealth screening company in the fundraising market and the only one to include proprietary matching logic to give nonprofits actionable results. Our data measures your prospects' capacity and willingness to give to your nonprofit

ProspectView Online Analytics and Reporting

3

You'll be able to search, analyze, and prioritize your findings using our ProspectView Online. Discover details about your prospects, including business, foundation affiliations, real estate, wealth data, past giving history, and much more.

Top Prospect Verification to Maximize Accuracy

4

DonorSearch is the only prospect research software that will manually verify top prospects to maximize screening accuracy. In addition, our team will review any records you select to ensure that your organization reaches out to top prospects in an efficient manner.

Importable & Customized Data Integrations

5

Connect to our powerful API to integrate DonorSearch's data with your prospect information. Or choose a custom integration approach to import data into your database to provide your gift officers with everything they need, exactly where they need it.

World Class Client Support

6

You can count on DonorSearch's World Class Client Success team to help you at any point in the process. Because every nonprofit's prospect data is unique, our Client Success team will train each client individually. The support you'll receive from our team is available to you at no extra cost!
Highest Accuracy Rate in the Industry
DonorSearch's proprietary algorithm and datasets provide your organization with accurate and actionable data. Our accuracy rate is 90-100%.

Data Driven Strategy

Prospect research is an essential component of an effective fundraising strategy and is the best way to ensure that your organization reaches its goals. 

Once you commit to the process, reward yourself with valuable donor information to serve as the foundation for your organization's future and long-term success.

Accurate Data & Research

DonorSearch provides you with actionable insights to approach your donors effectively.

Nonprofits of all types and sizes will benefit from our accurate, in-depth research and tailored programs that provide you with the data you need.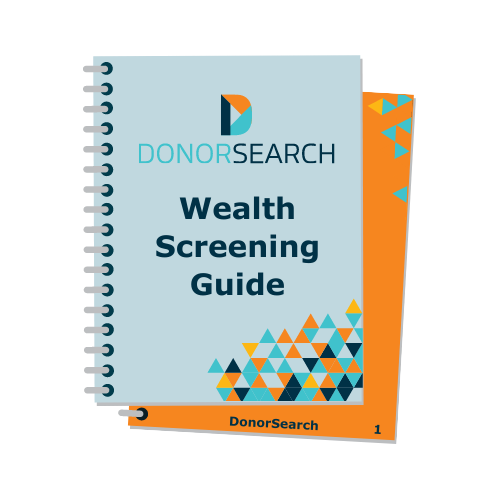 Wealth Screening Guide
Check out our Wealth Screening Guide to gain insight into best practices, recommendations for prospect screening tools, and types of donor data that need to be a part of your screening.
Learn More